Today's Tasks - May 26, 2020
Urgent--Protect Homeowners from Predatory Practices!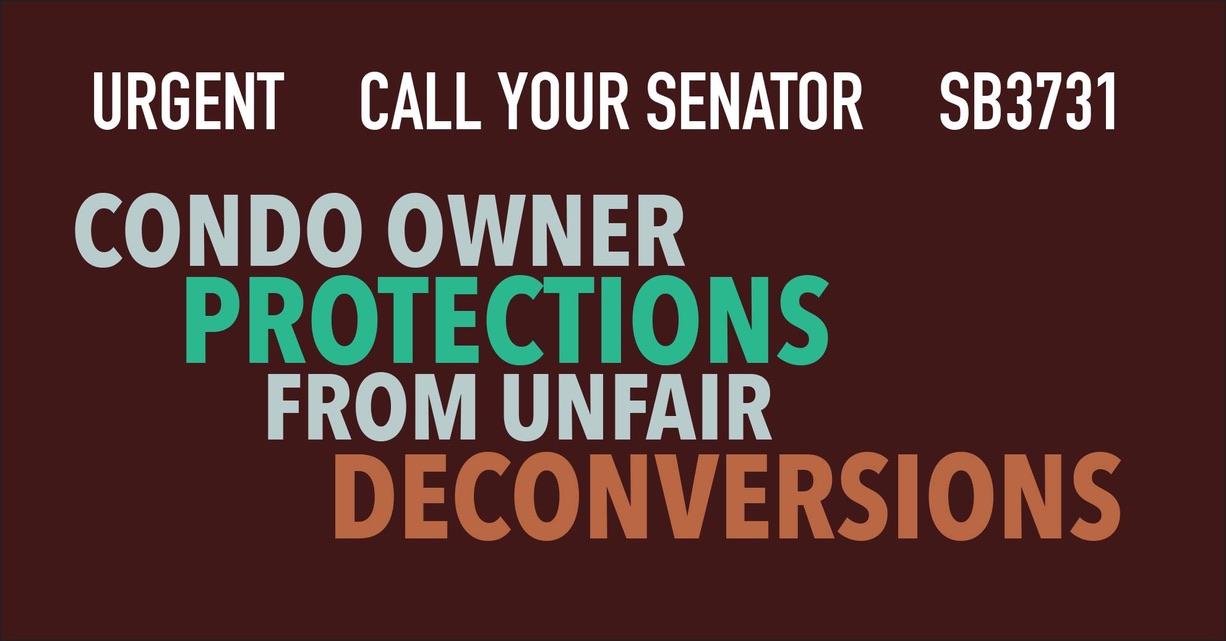 Across the nation, there has been a wave of deconversion, where developers have baited, harassed, coreced, been dishonest with, and otherwise tried to induce condominium owners to sell their entire building in what is known as a Section 15 bulk sale. Although this is happening nationwide, Illinois and Chicago, in particular, have been especially preyed upon. In a period of only a few years, developers in Chicago alone had "deconverted" (turned entire condo buildings into rentals, so owners are no longer owners and are routinely forced to move, deal with an underwater mortgage, and worse) thousands of units. The people who have been displaced include those who DID NOT WANT to sell--because of current law, if a certain percentage of ownership votes to sell a building, EVERY owner is forced to lose their unit, and they lose it at the price set by the developer/buyer--there is no consideration for whether certain units are worth more than others. Instead, developers offer their price based on square footage, so a unit in pristine condition will get the same price as one that is falling apart, unless an owner has the time, money, and ability to object to this process (which still forces them to lose their home, but only affects the potential process). This objection process is terribly disadvantageous to homeowners: they must file written objections within a matter of days, attorneys are needed to help (an added expense), and if the homeowner actually get to the objection process, it is highly unfair. The process is determined by a panel of three arbitrators: 1 selected by the developer, 1 by the owner (for which they have to pay a lot), and one that is "mutually agreed upon" (which the owner also foots part of the bill for), and the costs of arbitration are placed on a homeowner's shoulders.
Aside from this, a number of predatory practices aimed at homeowners and from developers/buyers/their agents have taken place--owners are frequently sent repeated, unwanted solicitations, and during a deconversion process, it is often no holds barred--one condominium unit's owners were subjected to over 10 text messages in a row in furtherance of the developer's wishes, beginning before 4:00 am on a weekday. State Senator Sara Feigenholtz has introduced legislation to try to protect homeowners, and in collaboration with our organization, a bill has been drafted and introduced to protect homeowners. This bill, SB 3731 is not only critical, but there are two impediments to it: (1). Because of COVID19, the Illinois General Assembly will only be in session from May 20-29. and (2). Prior bills of this nature have failed because while developers are vocal, NO ONE whose homes are at stake has been calling their state elected officials to try to get these bills passed.
Why this is so Important:
A senior in a building that was deconverted had an aneurysm, and his sole caretaker is his granddaughter. Because rental rates are so high (the average for a one-bedroom is about $1500+/month), he cannot afford to move or lose his home. He is impacted by deconversion.
One man, who bought his condo and lived there for over 20 years, was so stressed out by the predatory tactics used that he was taken to the ER & ICU, where he was told he was minutes away from dying--the constant pressure and loss of his home affected his heart.
A woman, who fought valiantly to keep her home, followed every rule ,and had a prior lease in effect (which legally, developers are required to honor once they take over a building), was given an eviction notice within 48 hours after the developer took her home from her, and the legal fees to stop the process were thousands of dollars.
A man who objected to the sale, said the experience was the worst year of his life, and he was expected to move out (after the developer repeatedly delayed the due diligence period, which destroyed the ability for soon-to-be displaced owners to make future arrangements, such as enter into a lease or buy a replacement unit) over the holidays, when it was snowing.
A woman on a fixed income, could not find a real replacement property, so she now has a unit without functioning heat, hot water, and more necessities.
One woman who immigrated here decades ago, has lived with her husband (who is a veteran) in her unit for over 15 years. They are seniors, and her husband has cancer. Even if they were paid a fair amount (which is not the case in the experience of far too many homeowners), they have nowhere to go.
A doctor's building was subject to deconversion attempts for such a prolonged period and to so much harassment that he was living out of boxes for over a year.
What You Can Do to Help:
The single most important thing you can do is to call your Illinois state senator & representative and tell the that you support SB 3731 to protect homeowners against predatory deconversions. Here is a link to the phone numbers for all your state elected officials: https://openstates.org/find_your_legislator/
You can also use the action buttons to help--but Senator Feigenholtz has already told us--what will make or break this bill will be whether your state representatives hear from you--let's MAKE SURE they do!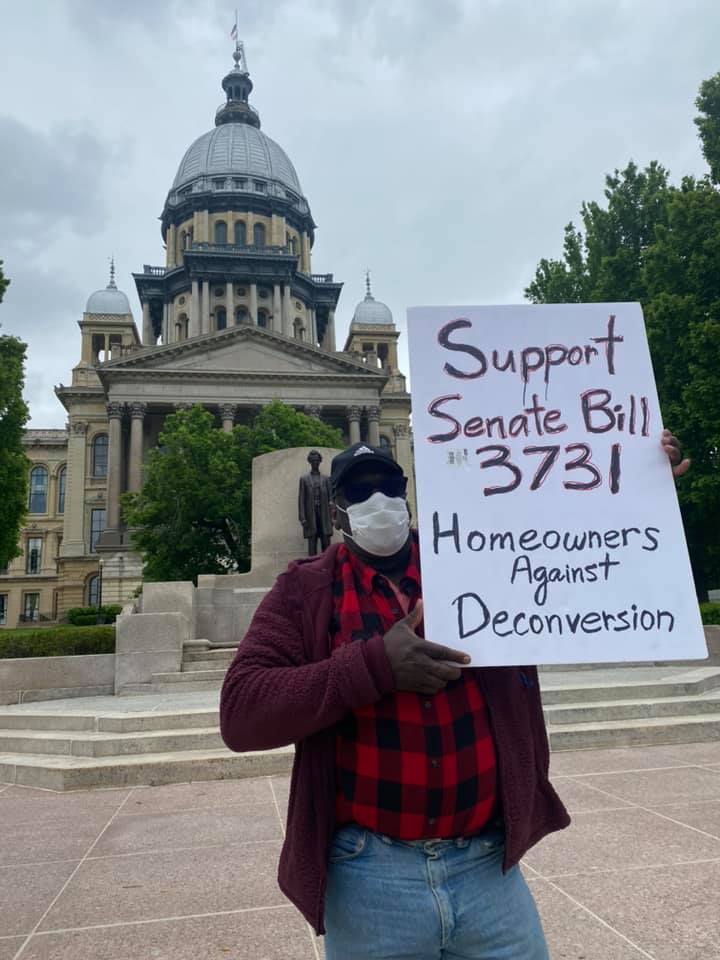 Actions Needed
Want more information and updates?
You can enter your email address below!
Sending form...
Form is Sent!
Feel free to explore the rest of this website.